Organizing your life includes organizing your assets so that your family knows what you want done should anything happen to you.

A lot of people think that only old people should have a will and think about the future. That is the furthest thing from the truth! Being prepared for anything that life might throw at you is a gift that you can give your family. At a time of crisis a lot of people make decisions based on emotion instead of logic. Make your important decisions before a crisis so that the decisions you make are in your best interest.

One way to do this is to make a list of all of your assets. If you want to give something to a family member, make sure that they really want it. If not, pick another person that you want to give it to. Don't burden your family with things that they don't really want.

Divide your assets without dividing your family.

There are numerous ways to divide your assets so that it's fair and equitable. With a little bit of planning you can avoid a lot of issues in the future.
One great option is FairSplit. It can be used to divide estates and even when someone is going through a divorce, to divide their assets.

Estate Division software - there is a FREE version available. This is a great way to track and later divide household assets.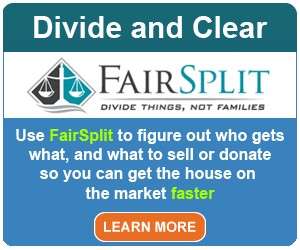 Take a look at
FairSplit
to see how it can help simplify your life.
Organize your home and life - on your terms.